When news of my transfer to the Keta Municipality of the Volta Region reached me, I was left aghast! I asked myself what wrong I had done to be "punished" this way. Why me? I loved it in Accra. I had heard a lot of myths about supposed enmity between Ewes and Akan's especially Ashantis. The Anlos were projected as the most wicked among the lot. So naturally, I felt I was walking into the lion's den.
But little did I know that I would become a conduit through which others would be enlightened and the scales of falsity, negative propaganda, inter alia would fall from their eyes.
The people of Keta and Anloga are one of the warmest and friendliest people I have had the privilege of meeting. They are hardworking, diligent in most of their ways, and extremely welcoming of strangers.
5 years down the line, I have been accepted as an integral member of the community. I have cultivated bonds of friendship that transcends belief.
I have personally influenced a countless number of National Service Personnel who hitherto wanted to be redeployed from the Municipality to accept their deployment and serve the good people of the land.
Some non-Ewe National Service Personnels found love here and got married under my watch. Others established business relationships among others. Many of them have taken residence here even after their service.
Keta and Anloga have arguably the best beaches in the country. From the Keta lagoon, marine life is in abundance. Mangroves abound aplenty adding to the exquisite natural habitats of marine life.
World class exclusive Resorts are strategically dotted across the land. Notable amongst them are the Aborigines Beach Resort, Eli Boutique Hotel & Beach Resort @ Tegbi, Meet Me There African Home Lodge, The Chill River Resort, Keta Lagoon Resort inter alia.
A rich and popular culture awaits you especially in November when the Awomefia and his people celebrate the Hogbetsotso festival.
Exclusive historical and archaeological sites includes Fort Prizenstein Slave Dungeon, Cape St. Paul Lighthouse (purported to be the oldest lighthouse in Ghana) etc.
There's more to be said but it's best if you experience it yourself.
I invite you to visit the golden coastal towns of Keta and Anloga. Stay in any of the resorts mentioned earlier and experience the mouthwatering tasty local dishes. Take a dip into the lagoon or Atlantic Ocean on the pristine beaches. Do some kayaking on the lagoon or simply enjoy a canoe ride.
Keta/Anloga is indeed, a potpourri of rich culture, warmhearted people, beautiful tourist sites, scenic islands, exquisite natural habitats for marine life, and awe-inspiring history.
You can't help but bask in this irresistible delight and haven.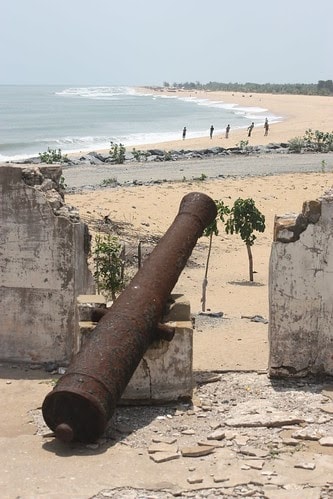 Source: Gabriel Osei Junior