The young man at the center of a controversial episode on TV3's celebrated Reality TV show Date Rush, Ignatius Kutu Acheampong known as MickMoreGh on social media has broken his silence.
Date Rush is a show that focuses on the dating process with conversations between the old and young generations on an array of subject in a bid to entertain, inform and educate viewers and society.
The game show is for single eligible gentlemen to get a special date with a lady and vice versa. The challenge is to make the best impression on the ladies to get them to want to go on the date within 4 presentation stages which leads to a date at a romantic location to be captured on cameras.
Ignatius who appeared on the show trended number one on Twitter and most popular on Facebook and Instagram shot to fame after he surprised audiences on Date Rush by refusing to take out any of the final two ladies who were dying for him- Freelove and Maame- who by the way also trended.
Reports later emerged that Ignatius acted the way he did because he was married with two kids and had numerous ex-girlfriends.
This is what he had to say about everything:
A Good Samaritan did this photo for me…where ever u are bossu u are blessed… Still keep ur comments n insult coming.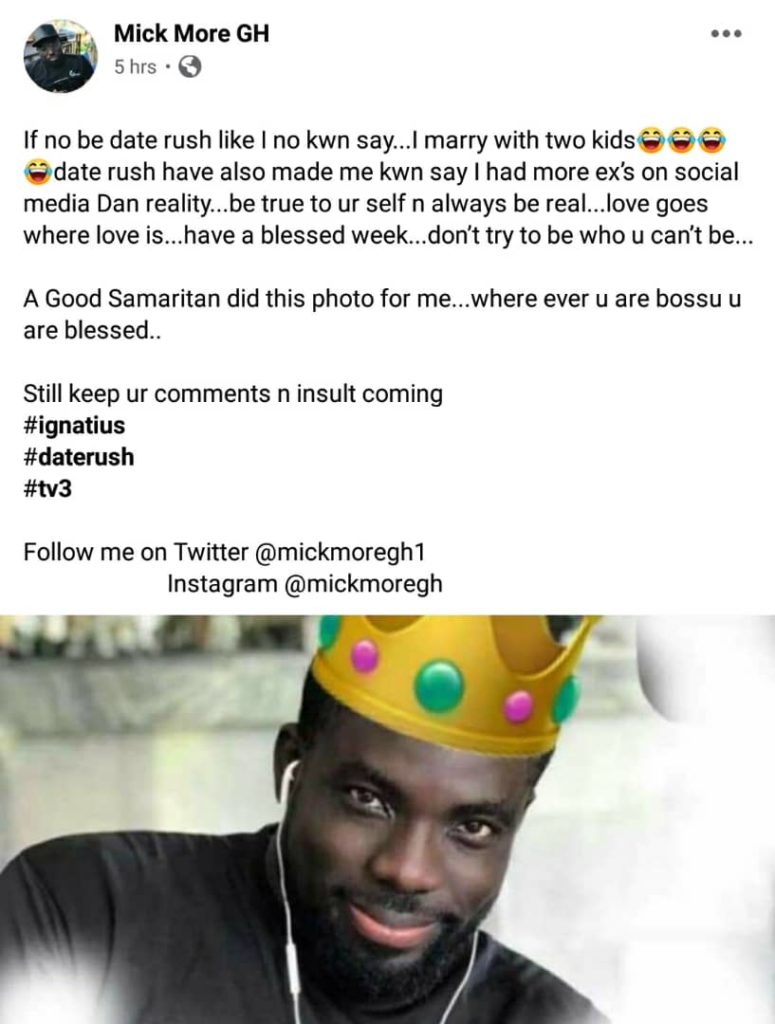 Source: mynewsgh.com/Stephen Zoure